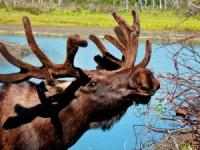 Ovre Pasvik National Park in Norway, Vatsari Wilderness Area in Finland and Pasvik Zapovednik Nature Reserve in Russia are all part of the same wilderness region – an oasis of rivers, plants and animals far north of the Arctic Circle.
Now the three parks are working on conservation cooperation and even plan to construct footpaths crossing the borders of the three countries, according to SikuNews.
Park managers intend to develop nature tourism in the unique environment where Asian, European and Arctic species meet.
The Pasvik region is the extreme cold tolerance limit of many of the species that live there. Part of the multinational project will involve strengthening research into the unique ecosystem.