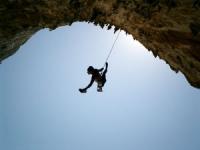 A man living in a publicly funded nursing home in Oslo is reserving his right to be dirty, a right he is willing to take all the way to the Supreme Court of Norway. The man, known to many as the "cave man" went from living in a rubbish heap near the university, to a nursing home.
In the nursing home the man was asked to wash. When he refused, he was ordered to do so by a city magistrate who ruled that he must wash. Since the man still refuses to do so, the case could be headed for the Supreme Court.
According to the 54-year-old "cave man", a person cannot be forced to wash against his will. According to the "cave man's" lawyer, forced cleansings are "an extremely serious assault on the private sphere."
As a physics student at the university, the man was expelled from student housing in the late 1970's because of his poor personal hygiene.
As the result of health problems, the man was admitted into a nursing home two years ago, where the problems with hygiene resumed. The institution has clear rules on cleanliness which are designed to take into consideration other residents of the facility as well as to prevent the risk of infection.
As the result of judicial errors, the court case was sent from the Supreme Court back to the magisterial level where the magistrate ruled in favour of washing. The "cave man" is reporting his forced washing to the police.