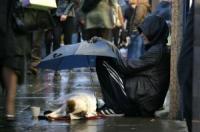 Erling Lae, the head of the Municipal Executive Board in Oslo is calling for a boycott of beggars. According to reports in Aftenposten, Lae believes it is the only way to discourage beggars from installing themselves on the city's streets.
For the past several years, the numbers of complaints to the municipality over beggars on the street have increased steadily. Begging itself, however, is not against Norwegian law.
As a result, and because of Norway's relative affluence and reputation for a social conscience, Oslo has been attracting a growing number of so-called "professional" beggars from Romania and Eastern Europe. The majority of these beggars hold positions on the streets of Oslo's main thoroughfare, Karl Johans Gate and popular shopping areas.
According to Mr. Lae, one of the most prominent politicians in Oslo, it is neither mean spirited nor inhumane to refuse money to a beggar. To the contrary, he says that refusing to donate to someone is refusing to condemn them to a life on the street and to public humiliation.
"It shouldn't be necessary for someone to stand with their hat in their hand and let themselves be openly humiliated," Lae told Aftenposten.
Instead of donating on the street, Lae urged well-wishers to contribute to welfare organizations such as the Salvation Army.