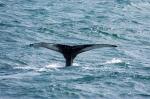 Iceland is likely to restart hunting minke whales in May according to a report from the BBC.
Iceland resumed commercial whaling in 2006 but in August last year the Ministry of Fisheries said it would not issue new quotas until demand for whale meat increased.
This was interpreted by many as an end to whaling in Iceland but the Ministry's decision only called for a temporary halt to the hunt. The Icelandic whaling industry now says it has sold all the meat from the last two years' catch which shows there is an appetite for whale meat.
In an interview with the BBC, a government official said that it was "likely" that minke whale quotas will soon be issued.
"We are not expecting any big quotas, but we are likely to see in the relatively near future some quotas for minke whales," it quoted Stefan Asmundsson, a senior official in Iceland's fisheries ministry, as saying. He added that, "the most important factor is to ensure the quotas are within sustainable limits."
Gunnar Bergmann Jonsson, head of Iceland's minke whaling association, said he hoped for a quota for 100 of the whales.
The IWC estimates there are about 175,000 minke whales in the North Atlantic and Icelandic scientists say a quota of 100 easily fits within the definition of "sustainable".
Minke whales are the second smallest of the baleen whales, averaging 7 metres in length and weighing around 4-5 tonnes.