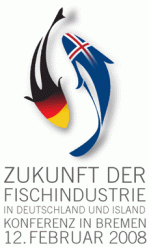 Nordic bank Glitnir will co-host a conference next week on 'The future of the seafood industry in Germany and Iceland'.
The conference will be the first of its kind and will focus on the Icelandic and German seafood industries and the similar challenges that the two countries face.
The event will be held in cooperation with the Icelandic Embassy in Berlin and the German-Icelandic Chamber of Commerce and will take place on Tuesday, February 12th alongside the Fish International exhibition at the Bremen Trade Fair.
The conference will tackle issues such as how the correct management of fishing stocks and the protection of the ocean could contribute to the international competitiveness of the two countries, as well as what the future might hold for the seafood industry in Germany and Iceland.
Fishing and fish processing still make up a large part of the economy in Iceland and companies are increasingly operating and investing around the world. The German fishing industry is completely integrated into the EU's common fisheries policy and subject to joint directives, from harvest rules to processing and marketing.
Speakers include the Icelandic Minister of Fishery and Agriculture, Einar K. Gudfinnsson, who will talk about fisheries management and fishing in Iceland to sustain stocks, and Jürgen Marggraf, Director of Operations Frosta AG, who will discuss the German fishing industry and its competitiveness in Europe.
The conference is conducted both in English and German with simultaneous interpreting being offered.
Visit the Glitnir website for a full list of speakers and more information on the Iceland / Germany seafood conference.
To register contact Dr. Birte Bernau at: infoberlin@mfa.is or tel.: +49 30 5050 4180 / +354 545 7826