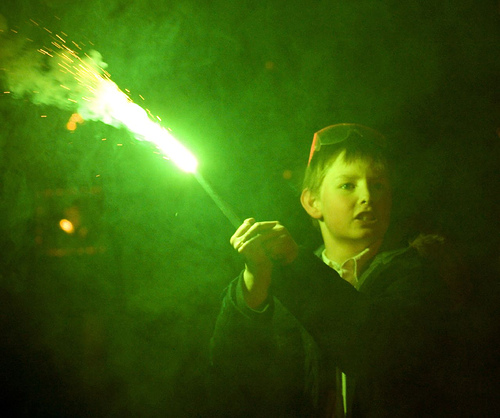 The Republic of Iceland, with just 300,000 inhabitants, celebrated the arrival of 2008 with thousands of tons of fireworks to help see the new year in.
The culmination saw thousands of Icelanders launching fireworks simultaneously between 11pm and 12 midnight on 31st December, flooding the night sky in Reykjavik with unending explosions of colour. It is not uncommon for an Icelandic family to spend the equivalent of several thousand dollars on fireworks for New Year´s Eve.

Fridrik Gunnarsson, a police official in the capital area, reported that 1,275 tons of fireworks were imported this year, which is nearly 50% more than 3 years ago. Last year around 1,000 tons were brought to the country.
Per capita calculations from Icenews Statistics reveal that if China and India were to set off the equivalent amount of fireworks per capita, each country would go through approximately 5 million tons (5 megatons) of fireworks.
The amounts for other countries are equally impressive, as revealed below:
China – 5,391,417
India – 4,609,478
United States – 1,235,461
Indonesia – 943,978
Brazil – 755,175
Japan – 520,505
Germany – 335,208
France – 261,243
United Kingdom – 246,919
Canada – 135,069
Australia – 86,294
The Netherlands – 66,884
Sweden – 37,290
Switzerland – 30,601
Denmark – 22,241
Finland – 21,608
Norway – 19,305
Ireland – 17,528
Iceland – 1,275
The calculations are based on the 1,275 tons of fireworks imported to Iceland with a population of just 313,000 people.
Statistics by Olafur K Olafsson, Analyst, IceNews.